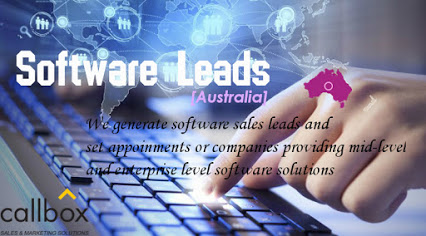 Lead Generation for Software Products
The software buying process has a minimum of six stages.
Generating leads for software products requires a profound understanding of the software buying process. When the goal is to generate software leads, sales professionals know to choose Callbox to speed up lead generation. We set appointments with top corporate prospects including Chief Executive Officers, IT Managers, Chief Financial Officers, and Controllers.
We generate software sales leads and set appointments for companies providing mid-level and enterprise level software solutions including:
Accounting and Financial Software
ERP Software
Business Intelligence Software
CRM Software
Workforce Management Software
HR and Payroll Software
Content and Document Management Software
Industry-specific Applications
Dial 61 2 9037 2248 to speak with a Callbox representative. You can also email us or set a phone appointment  – just fill in the short form below and click Schedule Callback (we promise it's short, 2 minutes, tops) and we'll call you.
What you get when you sign up for our Lead Generation Service:
Account Manager, Dedicated Sales Rep, Email & Social Marketing Specialist, Research & Data Analyst, Quality Analyst
Get the benefits of an All-in-One Marketing Package – Voice, Email, Social Media, Web and Mobile Marketing
Take advantage of access to over 50 million prospects from the US, UK, Australia, Asia, and more
Managed Marketing Automation
Never again miss an opportunity to sell as we nurture all leads for you until they are ready to engage
Keep your data up-to-date and your marketing campaigns relevant with fresh, phone-verified data
Get ready to close the deals because we're sending warm, qualified leads and appointments your way!
Australia
Suite 83, 89-97 Jones Street
Ultimo, NSW 2007 Australia
+61 2 9037 2248
USA
+1 888.810.7464 Toll free
+1 310.439.5814 Direct line
+1 310.862.6762 Fax
Singapore
+65 6248.5023
Malaysia
+60 3.9212.5776
UK
+44 20.74425066
New Zealand
+64 9.9143122
Hong Kong
+852 3.6786708
Callbox serves cookies to improve and enhance the functionality of our website.
See details
OK, GOT IT