Fill your sales pipeline with warm and qualified leads
We provide multi-channel lead generation services that are designed to help get you in front of your target prospects at the best time — when they are most interested and ready to listen to what you have to offer. With a focus on lead quality, Callbox ensures you spend time only on leads that are highly closable.
Backed by over 10 years of solid lead generation experience in specialized industries and intuitive marketing technology, we give you the ability to scale your sales team to a marketing powerhouse as we utilize our mastery of the prospecting process over multiple channels – voice, email, social, web and mobile. Equipped with an understanding of your business requirements, we design a lead generation solution that delivers simply what you need: qualified sales leads and appointments.
Be it Customer Acquisition, Lead Qualification, Appointment Setting or Event Marketing, with Callbox Lead Generation Services, you'll reach, or you could very well exceed, those target sales numbers – and you'll do it efficiently and consistently.
Callbox is proud to help the world's most successful brands achieve their sales and marketing goals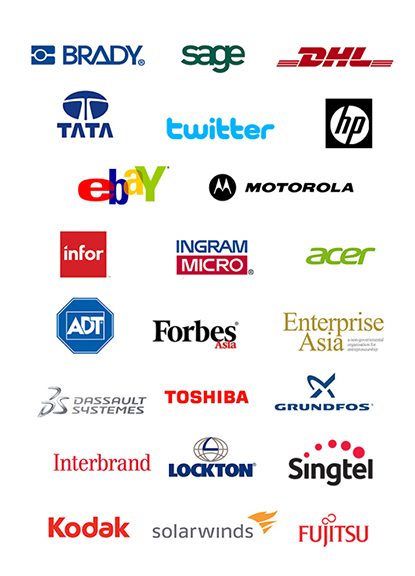 .
I love the integrity with which you work. I'm so grateful to have you on my team, I love the passion with which you do your step of our process.
Ian Warner, CEO, Aprio Governance Information Software
I had a wonderful experience with Callbox starting from the Sales team to the Campaign Execution team. For us, they are an extension of our sales & marketing team. They can execute well if given good guidance in the beginning of the campaign. They do not shy away from putting extra work in making your campaign successful. It is a hard working, talented team and I would love to continue to work with the team in the future for 2015 campaigns.
Shilpi Sharma, Kvantum Inc.
Both our prospects today have signed up (verbally) to the system! Well done – you're doing such an awesome job.
Helen Joronen, CEO, Greenkeeper Systems
They tell me that I am lucky to have such a great person working for me. I am so thankful to Tricia, to you and to your entire team for working so hard to make me look so good!
Dwight Holcomb, Managing Director, HC Development, Inc.
How Our Lead Generation Service Works:
Let the Proven Callbox Process Work For You
Take a look at our proven process for successful Lead Generation.
Having worked with thousands of clients from around the
world for more than 10 years has given us valuable experience
and insight into what works best and produces results.
No complicated set-up or clunky interface
Reach and engage your prospects with ease and efficiency
Callbox Pipeline is a multi-touch, multi-channel CRM and marketing automation platform that integrates call center power with lead management, campaign monitoring and lead nurturing. Sign up for any of our services and instantly enjoy these benefits of Callbox Pipeline and more:
DataMiner – Build lists of up-to-date business contacts from Callbox's global database
Sales Campaigns – Run targeted call and email campaigns
Lead Scoring – Score leads based on how they fit in with your business and the interest they show in your offering
Live Touchpoints – View calls by your Callbox team, email opens and replies, and website visits as they happen
Mobile Streams – Access updates on recent calls, appointments, tasks and notifications across mobile browsers
Auto Triggers and Actions – Nurture your leads by defining the next move for any given status of your sales prospect
Real-time Notifications – Send and receive timely alerts so you can respond promptly to actions taken by your prospects