Gartner says that marketing budgets have started to plateau in 2017, after years of steady growth. That's one of the main things they found in their 2017 CMO survey, which also reported that only two-thirds of CMOs expect a significant increase in their 2018 budget while a third believe their budgets will be cut.
There's obviously a lot of reasons why companies slash marketing budgets (including tough economic times, shifting priorities, cost-cutting measures, and scaling down operations). Most of these factors are simply beyond any marketing decision-maker's control. But marketers still influence how much business impact their marketing activities can have. And that's through carefully planning how (and how not) to spend their budget. That's what we'll feature in today's post.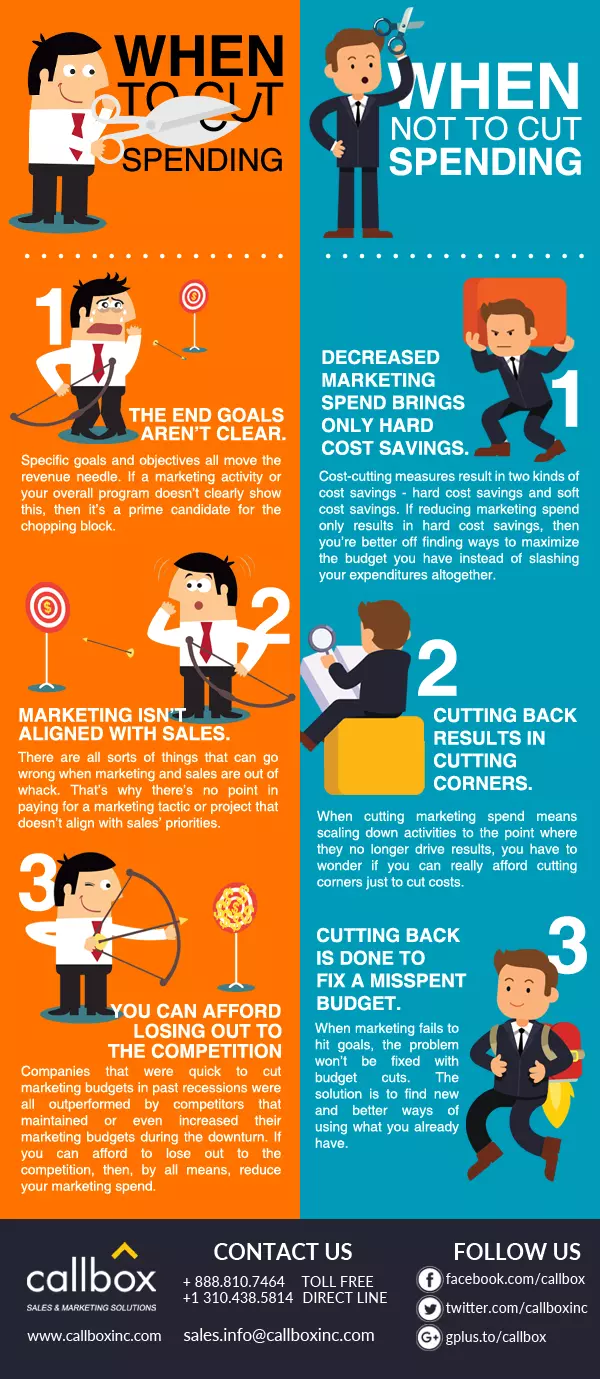 Transcript:
When to Cut Spending
#1

The end goals aren't clear.

Specific goals and objectives all move the revenue needle. If a marketing activity or your overall program doesn't clearly show this, then it's a prime candidate for the chopping block.
#2

Marketing isn't aligned with sales.

There are all sorts of things that can go wrong when marketing and sales are out of whack. That's why there's no point in paying for a marketing tactic or project that doesn't align with sales' priorities.
#3

You can afford losing out to the competition.

Companies that were quick to cut marketing budgets in past recessions were all outperformed by competitors that maintained or even increased their marketing budgets during the downturn. If you can afford to lose out to the competition, then, by all means, reduce your marketing spend.

Related: Warning: Don't let Your Market Competitors Eat you Alive
When Not to Cut Spending
#1

Decreased marketing spend brings only hard cost savings.

Cost-cutting measures result in two kinds of cost savings – hard cost savings and soft cost savings. If reducing marketing spend only results in hard cost savings, then you're better off finding ways to maximize the budget you have instead of slashing your expenditures altogether.
#2

Cutting back results in cutting corners.

When cutting marketing spend means scaling down activities to the point where they no longer drive results, you have to wonder if you can really afford cutting corners just to cut costs.
#3

Cutting back is done to fix a misspent budget.

When marketing fails to hit goals, the problem won't be fixed with budget cuts. The solution is to find new and better ways of using what you already have.