For the past 5 years, Fintech is one of the fastest growing industry in Australia, with the 3 largest sectors; investment, payment and lending. Over the years, there has been a five-fold increase in the number of Fintech startup companies in Australia, according to KPMG.
As of November 2017, EY FinTech Australia Census found out that Fintech companies in Australia are enjoying a 200 percent annual median revenue jump and increasingly planning to expand overseas, based on the report.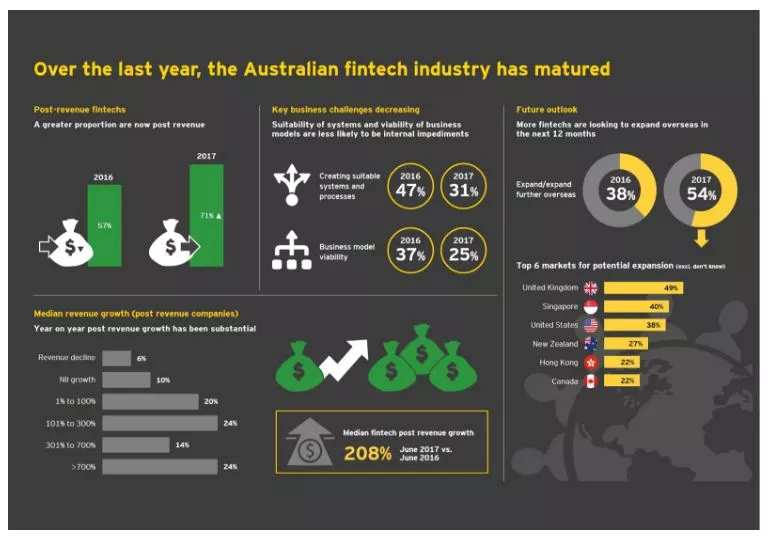 (Image credit: Fintech Australia)
Here's why they do and why you should too.
The number of Fintech startups in Australia increased from around 100 in 2014 to almost 600 companies at the end of 3rd quarter this year.

Around 24% of Fintech companies (those that are in business for less than 3 years) reported having revenue growth increase of more than 700%.
Related: 150+ B2B Tech Marketing Stats to Help You Plan for 2018 [Free eBook]
With the following that is considered to be the most effective initiatives showing industry growth:
Improving the research and development initiative (87%)

Government mandated open data controls (85%)

Capital gains tax relief (85%)

Reduced payroll and other taxes (83%)

New payment platform (82%)

Fintech industry has 512 Australian and 67 offshore companies that are operating locally.
Related: Jaw-Dropping Growth of Fintech Industry After 18 months
As Fintech industry matures, more and more Fintech companies in Australia are claiming they are ready to go global in the next 12 months. With that being said, more and more entrepreneurs are investing in putting up Fintech companies all over Australia in the upcoming years.