Referrals, SEO, Blogging, Email Marketing, Social Media, etc. These are some of the most common marketing channels used by many sales and marketing executives to increase their sales.
Despite all of these, different challenges – having higher web traffic and generating quality leads are still arising that leads to a frozen sale.
Just like in the Disney movie, Frozen where it is focused on Elsa's journey of self-discovery and how she discovered that her love for her sister, Anna is the only way to thaw a frozen heart.
As a business owner, your passion and love for your company allow you to discover new strategies and techniques that can help your business grow.
Here are a few marketing channels that will help thaw the ice off your frozen sales.
Cross-channel marketing.
According to econsultancy.com, a majority of companies in Australia and New Zealand say that cross-channel marketing has a 'major impact' on business their objectives.
In today's modern marketing, a step-by-step approach is not enough. You need to be where your customers are. So the success of your marketing techniques will depend on every channel used to reach out, communicate and nurture your prospects.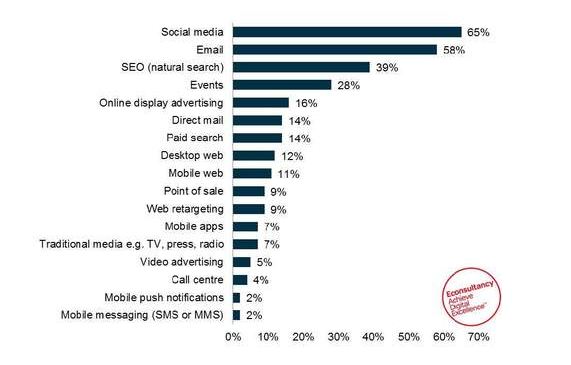 Source: econsultancy.com
Among all of the channels, social media has the greatest opportunity and is considered the biggest priority for many marketers. However, that shouldn't stop you from exploring to other channels – email, web, SEO, voice, etc. in engaging with your prospects.
Related: Multi-Channel Marketing Stats Is Bound To Make An Impact [VIDEO]
Lead management.
Nowadays, closing a deal is becoming a longer process. In order to attract customers, increase engagement and sell faster to prospects is by reaching them at the right time.
There are 3 stages of prospect's buying process.
Stage 1: Research. Currently looking for a good product that suits him.
Stage 2: Evaluation. Have chosen a few products and looking which one is better.
Stage 3: Decision making. The final stage of the buying process. He'll get to decide which product to choose.
Related: Re-engage with Warm Prospects Who Have Gone Cold
As a marketer, you need to know which stage your prospects are on their buying journey to be able to identify what approach to use to nurture your prospect. How you manage your prospects helps you understand what techniques to use to optimize your sales strategy.
For example:

If they are just looking, then you need to get to know your prospects more in order to identify if you can help him and if you have what he's looking for.

If they are in the evaluation process, you need to highlight your product's benefits and what it can do for him.

If they have decided what product to purchase (not you), then you can compare what you have and their chosen product by highlighting what your product can do and offer a better deal.
In lead management, it is important to build a relationship with your prospects and walk them through every stage of their buying journey.
Related: Don't Just Blast Cold Email Picthes, Nurture and Win Customers [VIDEO]
SMART calling.
Cold calling is still considered as one of the fastest and the most profitable way to initiate sales and an initial way to build a relationship with your prospects. Cold calling is not and will never be dead, you just need to be making smart calls.
Smart calling means reaching the right target at the right time where they are more likely to respond or pick up the phone to lessen rejection from your prospects.
SMART calling increases your productivity by prioritizing your sales calls based on your prospect's behavior.
When is the best time to make a successful phone contact

When are they most likely to open their emails

When do they usually make website visits

When are they usually active on social media.
Learn more about our Smart Calling tool. Knowing when to reach out to your prospects at the right time is the most efficient way to run a successful lead generation campaign.
Related: Earn Appointments with These Cold Calling Scripts for All Industries
Customers are getting wiser in choosing a product or a company to work with. As a marketer, you also need to adapt to the new marketing techniques that can help you break the ice off your frozen sales.