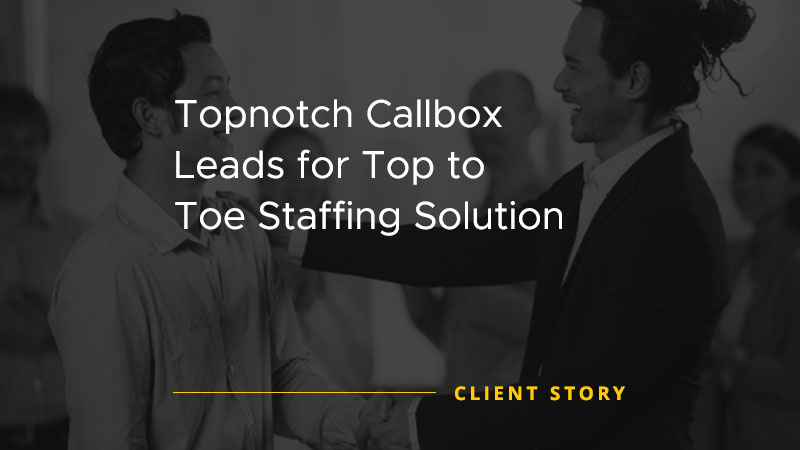 Topnotch Callbox Leads for Top to Toe Staffing Solution
Social Media Connections
684
Industry
Human Resource (Staffing)
Headquarters
Largo, MD, USA
Campaign Type
Lead Generation, Appointment Setting
Target Industries
Education and Health, Financial, IT, Public Administration, Professional and Business Services, Transportation, Management Consulting
Target Contacts
HR Managers, HR Directors
The Client
The Client is a strategic staffing company for more than 17 years now, providing innovative human resource solutions to employers and job seekers, and serves as a trusted advisor to employers and professionals. They specialize in staffing for human resources, finance and administrative support, helping companies achieve objectives through simplified search for talent while making it easy for job seekers find the right job for them.
The Challenge
The Client has helped many professionals build rewarding careers and employers hire the best talents through their "end to end" staffing services and solutions designed to simplify talent search, deliver results and grow their business, while marking key strategic functions required to achieve core goals.
However, in recent years, work has become quite arduous in acquiring new and qualified clients. Competitors have become more aggressive, offering almost the same staffing service packages which gave target prospects a feast of options laid before them, which on the other hand took them a longer time to decide for the best provider. This urged the Client to decide on trying new marketing tactics that can help expedite their prospecting processes so a lead generation program was plotted to carry out the Client's goal to acquire new and much qualified clients within a targeted period of six (6) months.