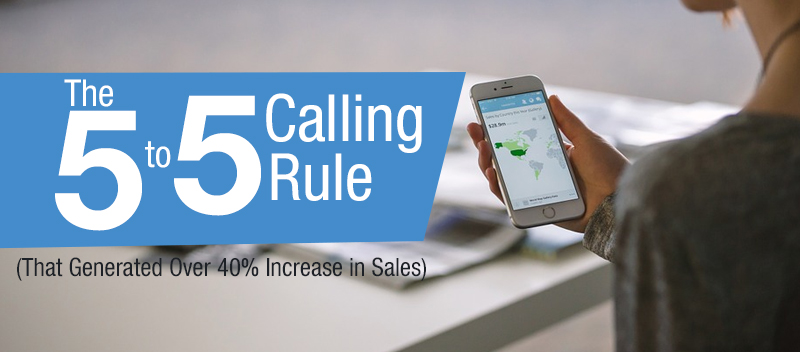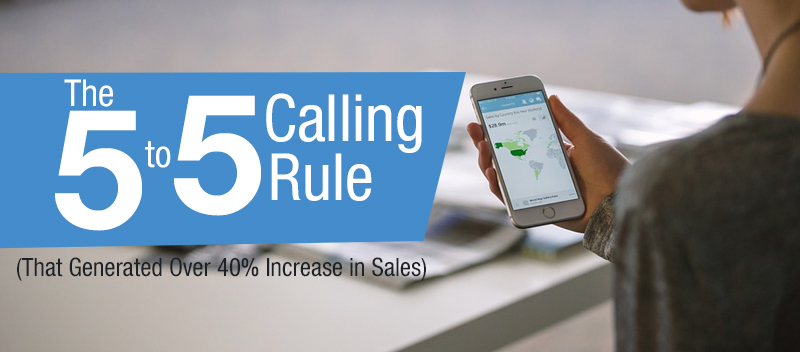 In over a decade of delivering multi-channel marketing programs, valuing our business means valuing our clients' businesses even more, constantly pushing us to pursue increased productivity for both. We exert selfless effort in acquiring new knowledge and developing skills to be able to achieve the goals we set.
In this article, find out how Callbox created and employed a '5 second to 5 minute" calling process that generated over $350,000 additional revenue or a 40% increase in sales.
Goal
During the 2014 goal setting meeting, Callbox saw an increase in inbound traffic from different channels like Email, Calls, SEO, and Social Marketing, which required immediate action to cater to the sudden surge in inflow.
Aside from adding more members to the Calling Team to handle more inquiries, the team addressed the issue by further expediting the process of answering the customers' queries and addressing any concerns they may have.
Thus, the  "5 to 5 Rule" was created.
Related: Effective Lead Generation Technique for Software Products: Leverage Multi-Channel Exposure
Process
The 5 to 5 Rule was, and is still an active calling process effectively employed by the team, in 3 easy steps:
Step1: All inquiries coming through the multiple channels including Inbound/Outbound Calls, Email Responses, SEO and Social Marketing were monitored real-time by the Response Team and checked within 5 seconds.
Step2: The Response Team transfers the inquiry to the Calling Team for further qualification, a process that takes anywhere within 1.5 to 2 minutes.
Step3: Once the query is deemed qualified, the Calling Team transfers the call to the Outside Sales Team to take the prospect's requirements, and must be a subject for Sales Proposal, before the 5 minutes threshold lapses.
Real-time Monitoring Chance Rate at Second Intervals

Software Advice, The Online B2B Buyer Behavior Report by Derek Singleton
Conversion Chance Rate by Minute Intervals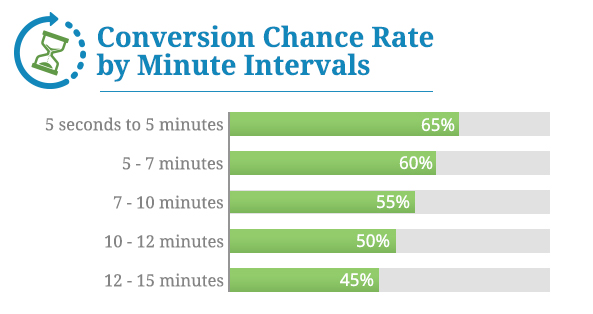 ---
The shortest time that the inquiry is addressed, begets higher chance of converting the query to a Lead, to a Proposal, and to a Close. tweet this!
---
Once the Response Team receives the inquiry, it has to be checked through within 5 seconds for transfer to the Calling Team.
This clearly requires that the Calling Team be ready at all times to take transfers and be able to qualify the inquiry within 1.5 to 2 minutes only.
Once qualified, the OS Team is quick to take the transferred call and present Callbox's products and services to the prospect in a period of 2 to 2.5 minutes.
Related: Why You Shouldn't Ask, "Is this a bad time to talk?"
Practically speaking, conversation between the prospect and the OS may go beyond the 5-minute period, but should only bear clarification of details, verification of contact information and setting of appointment for a follow-up call regarding the Sales Proposal.
Even David Dodd of  Customerthink.com pinned it when he wrote this article, 'Are Your Lead Response Practices Costing You Sales?'
Results
The team saw a spike in Leads, Proposal Rates and Closes.
Since inquiries were monitored real-time and quickly reviewed and qualified, the number of Leads increased, resulting to more sales proposals drafted and sent to prospects. As these proposals comprehensively present all the details of our products and services, the chance rates of closed sales also increased, while abandoned calls and emails significantly decreased.

The success of the "5 to 5 Rule" is a product of a willingness to innovate at a quick pace and see necessary changes through to the end of the process.
Originally posted at Callboxinc.com
Read more sales and marketing, Check out Callbox Blog
Learn more about how we generate leads for Businesses in Australia!
Dial +61 2 9037 2248
https://www.callboxinc.com.au/wp-content/uploads/2017/02/1-1.jpg
352
800
admin
https://www.callboxinc.com.au/wp-content/uploads/2019/01/callbox-logo.png
admin
2017-02-27 00:57:15
2020-11-10 16:47:13
Follow Up your Inbound Leads with 5 to 5 Calling Rule (and Generate Over 40% Increase in Sales)