Digital marketing has transformed the world as we know it.
Through the power of online platforms and strategic communications, companies and even small-scale startups have been able to leverage the internet to bring growth on unprecedented levels.
In this article we take a look at inspiring stories of small companies that have managed to defy the odds through digital marketing and creative lead generation.

GoPro
GoPro is a good example of how a company that knows its customers well can harness social media to create engagement and increase revenue.
Ever since the legendary camera's inception it has gained a lot of praise for its niche, and it's continued to grow ever since.
However, they didn't stop there, they knew the content that their customers were recording, so they decided that all the media on their page would reflect this. Almost all their posts featured the use of their Hero cameras.
It created a community out of its user base and leveraged this for their growth on the Facebook platform.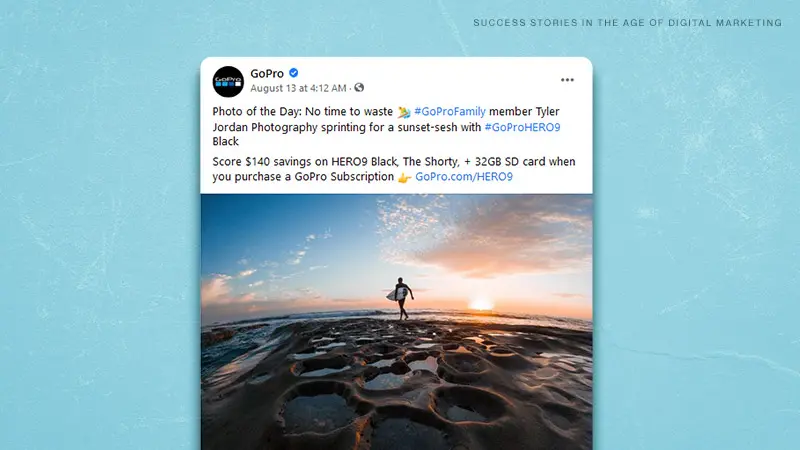 With unique hashtags, the opportunity for followers to upload their own video, and unique challenges, they continue to maintain a Facebook page that's focused on engagement.
What's great about this approach is that they didn't even have to create all the content they were putting out. Their users did this for them, saving them a lot of time and giving people an opportunity to interact with each other.
Related: Top Lead Generation Success Stories in Australia
Dollar Shave Club
No list would be complete without the story of the Dollar Shave Club, and we're sure every marketer is familiar with their story.
Their business model was very simple, it was a subscription service to get a new razor set for only a dollar a month.
Just like any startup, they had birthing pains, and they needed to do something to jumpstart their growth.
The solution was a funny video ad that starred the founder, Michael Rubin, himself, where he went around their warehouse making jokes about their blades.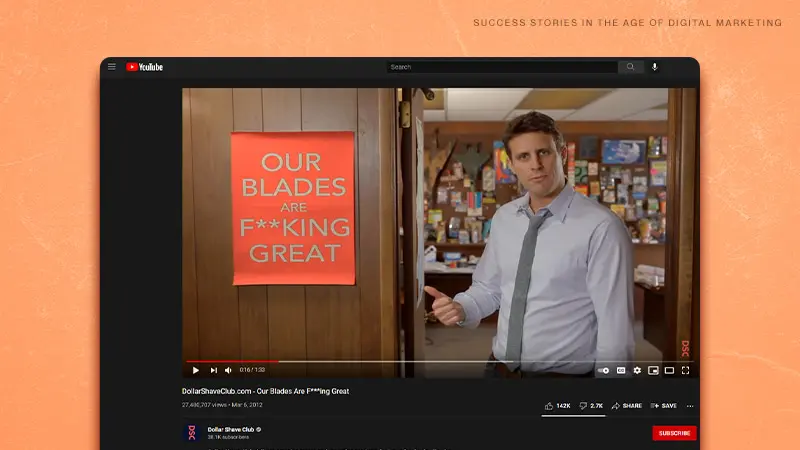 Using a combination of humor and digital marketing, they were able to launch a business so big that it was eventually acquired by multinational Unilever for a billion dollars. And, the viral video is still making millions of views to this date.
Related: Callbox Helped IaaS Firm Re-engage Old Contacts and Convert Into Leads
Pandora
While we're on the topic of video, let's talk about the jewelry maker, Pandora.
Pandora is a well-regarded brand when it comes to jewelry, their bracelets with their charms have been an iconic accessory at some point, and it's still one of the go to brands for jewelry that won't exactly break the bank.
In 2017, the company decided that they needed to up the ante, and conquer the German market, so they looked towards Facebook video to increase brand awareness.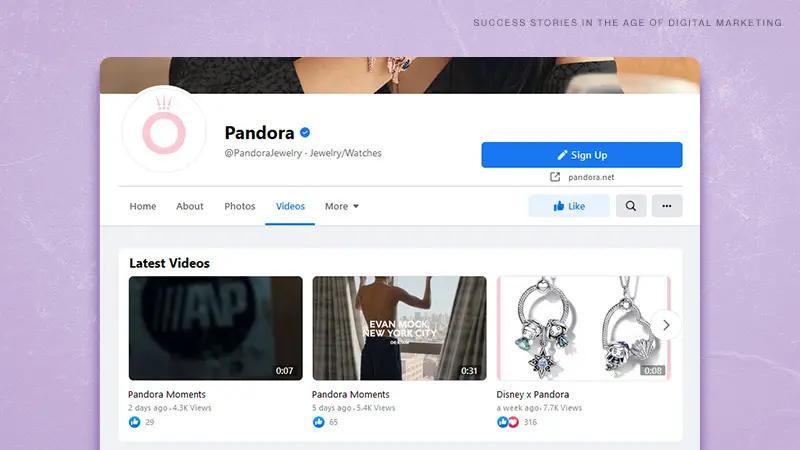 Their ad was short and relatively simple. They used an existing ad that they had for television and shrunk it down to 15 seconds, they optimized it for Facebook with very specific dimensions, and the results were amazing.
It gained 10 points in favorability and a 42 percent increase in the number of buyers for just that Facebook video.
They didn't bother creating a new ad because they knew they already had a good idea in their hands, they just needed to optimize.
This is just testament to the fact that even well-known brands can take advantage of digital marketing to grow.
Related: B2B Customer Acquisition Examples: 10 Campaigns to Learn From
Take Note
Let's visit the world of SEO for a while, and take a look at HubSpot's client, Take Note.
Take Note is a transcription service based in the UK. They cover everything from basic transcription, notes, and even caption services.
When their growth was starting to increase, they started struggling because of their processes and they turned to SEO to solve some of the problems that they were having.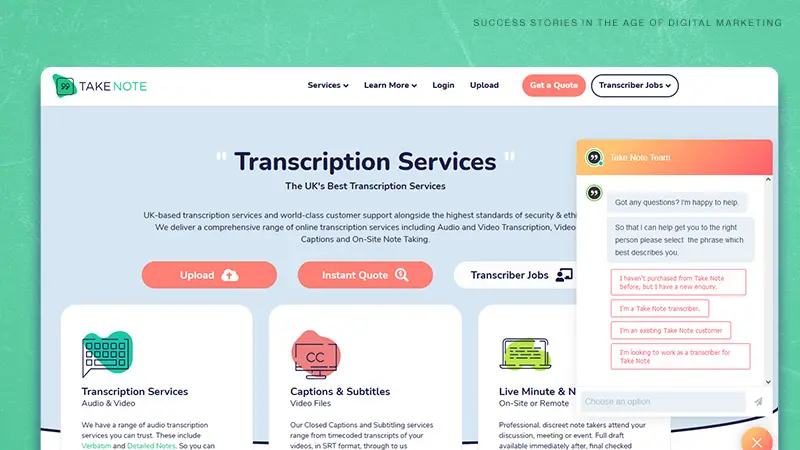 Now SEO isn't the most glamorous digital marketing branch with its various complexities. However, it's one of the surefire ways to leverage the digital revolution for your business.
SEO involves numerous factors from increasing visibility on SERPs, fixing technical problems on web properties, and getting content structured right for better UI.
Hubspot took over and put them on a tailor-fit SEO package to help them with their digital marketing needs.
After a lot of in-depth fixes, Take Note was able to experience a revenue uplift of at least 16 percent and increase traffic by 22 percent.
---
These are just a few of the thousands of stories out there of how organizations were able to harness the power of digital marketing to take their growth to the next level.
However, what's important is understanding the customer. Digital marketing isn't magic and there is no one-size-fits-all approach to engaging with people, there still has to be a real, personal connection in everything that you do.
How are using digital marketing to shape your business landscape? Give Callbox a call today and find out how we can help you!