More and more households and businesses are considering solar adaptation.
So how does solar lead generation company reach out and nurture solar prospects towards a sale? Here's a step by step guide on how solar lead generation works.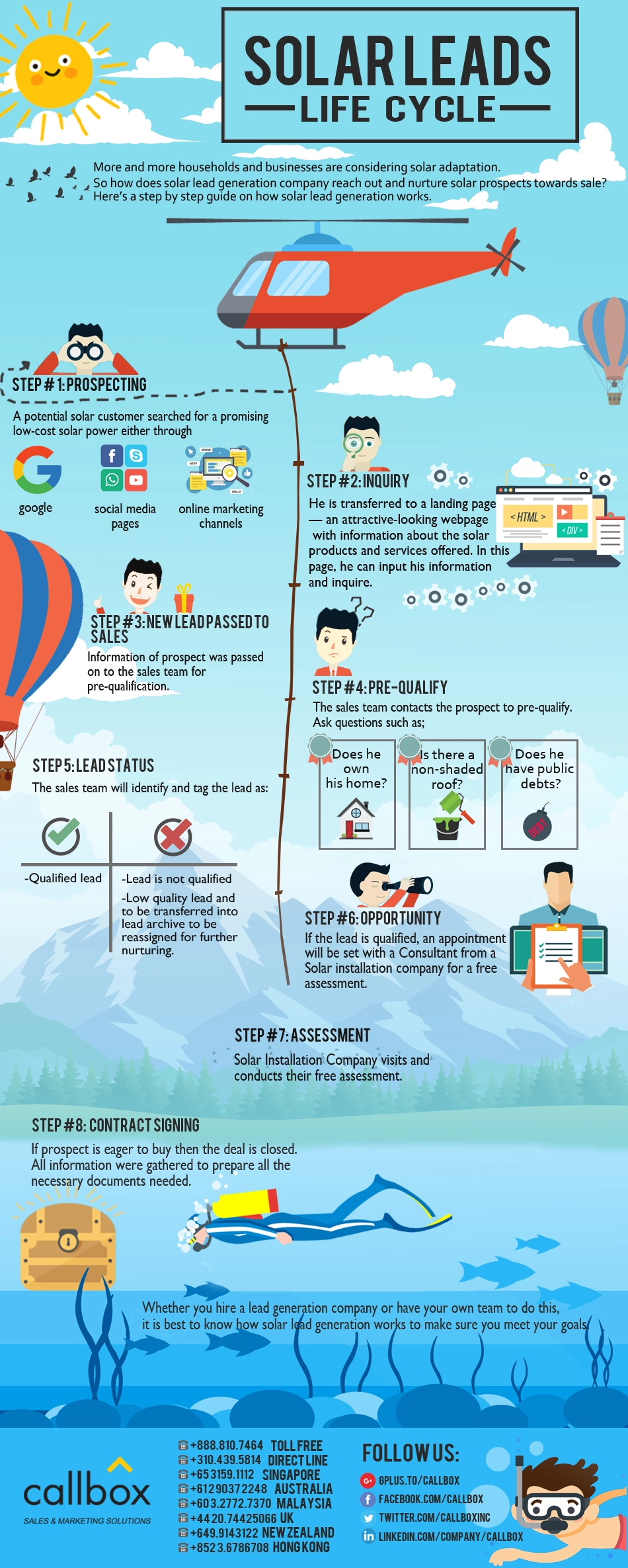 Transcript:
Here's a step by step guide on how solar lead generation works.
Step #1:

Prospecting

A potential solar customer searched for a promising low-cost solar power either through google search, social media pages or other online marketing channels.
Step #2:

Inquiry

He is transferred to a landing page— an attractive-looking web page with information about the solar products and services offered. In this page, he can input his information and inquire.

Related: What it Takes to be an Effective Solar Lead Generation Experts
Step #3:

New lead passed to Sales

Information of prospect was passed on to the sales team for pre-qualification.
Step #4:

Pre-Qualify

The sales team contacts the prospect to pre-qualify. Ask questions such as:
Does he own his home?

Is there a non-shaded roof?

Does he have public debts?
Related: Power Up Solar Marketing with Outsourced Lead Gen Services
Step #5:

Lead Status

The sales team will identify and tag the lead as:
Accept.

Qualified lead.

Decline.
– Lead is not qualified
– Low quality leads and to be transferred into the lead archive to be reassigned for further nurturing.
Related: Ever thought of following up Inbound Leads via Outbound Marketing?
Step #6:

Opportunity

If the lead is qualified, an appointment will be set with a Consultant from a Solar installation company for a free assessment.
Step #7:

Assessment.

Solar Installation Company visits and conducts their free assessment.
Step #8:

Contract Signing

If the prospect is eager to buy then the deal is closed. All information was gathered to prepare all the necessary documents needed.

Related: How to Future-Proof Your Energy Company's Marketing Strategy

Whether you hire a lead generation company or have your own team to do this, it is best to know how solar lead generation works to make sure you meet your goals.