Years of innovation and hard work have been put in to give Callbox clients the best solutions for their business, as well as to enable managers and sales professionals to streamline business development.
The challenge has always been to keep up with the changing times, especially with how technology evolves in exponential fashion even just in the last two decades. Callbox started out as a simple telemarketing firm, which eventually flourished into a multi-channel marketing machine.
Now, in the age of cloud and automation, Callbox steps up to the plate, ready for another era of marketing savvy.
In celebrating 10 years of flourishing into a stalwart player in the business-to-business industry, Callbox is taking cloud-based lead management and marketing automation to new heights.
Putting the clients front and center: Callbox integrates with Salesforce
Not a lot of business folks would question how Salesforce is dominating— in a rather lopsided fashion — the current enterprise cloud platform war. It's not even close. With its acclaimed software stability and supportive ties with customers, partners and developers, Salesforce offers the one true payoff for enterprise CRM.
But it's not just the reputation that has led Callbox to finally bring Salesforce into the mix; we have always been a resolute fan of new technology and game-changing shifts, which is exactly what Salesforce is and has always been about. When you aspire for innovation, you can't help but partner with the most innovative company in the world.
Prospects who have long entrusted their data to Salesforce can now be serviced by the Callbox without the fuss of manual migration but with the same certainty and level of convenience they've been accustomed to. That premise alone opens up to an entire new experience, not to mention the clear operational and bottom-line benefits for both sides of the equation.
Introducing Callbox DialStream: The Most Efficient Power Dialer for Salesforce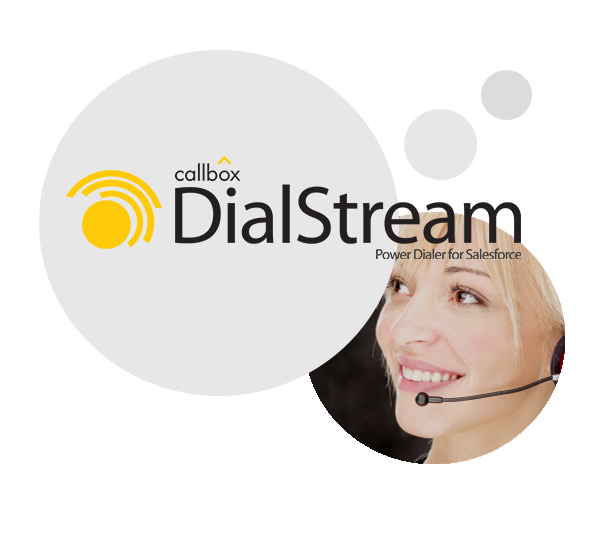 What is DialStream?
Callbox DialStream gives your business the edge by providing a faster, more efficient way of contacting, connecting, and closing more leads.
Salesforce Integration
You want Callbox to generate your sales leads for you, but you and your sales team are very comfortable using Salesforce to manage your leads and sales activities. Solution: DialStream.
Turbo-charged Dialer
Built with such speed and flexibility, DialStream delivers massive efficiency gains and better overall sales performance. Opportunity waits for no one, so we work fast.
Smarter Conversation
DialStream makes way for better and smarter engagement with prospects as it presents customer data relevant to each call.
Achieve maximum efficiency and phone productivity
When you sign up for a lead generation campaign with us and would prefer your Callbox team to work with your prospect lists directly from your Salesforce account (Enterprise), Callbox DialStream makes it possible.
Our dialer solution is seamlessly integrated with Salesforce, which means that:
Your Callbox callers can dial your Salesforce contacts directly through DialStream; No software installation or contact data migration required
When your Callbox callers add notes to each call, send an email, or leave a voicemail message, all data are logged directly to your Salesforce account in real time
Call reports (duration, result, etc.) can be generated using the Salesforce report engine
Contact us to learn more about this amazing solution.