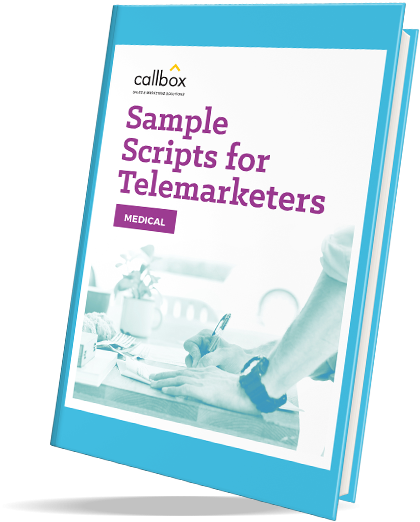 Download our free ebook:
Sample Telemarketing Scripts for MEDICAL
Here's what's in store for you this September!
Subscribe to our newsletter and get your Sample Telemarketing Script for FREE!
Scripts are used as guide for telemarketers to deliver the right message to their prospects.
Our sample scripts for the Medical Industry are ready-to-use templates with sample call flow for different situations – from your first encounter with the Gatekeeper until your call is transferred to the right person within their organization.
Scripts included are:
Appointment Setting Script
Call-to-Invite Script
Data Profiling Script
Boost your sales team's confidence when talking to your prospects using the rebuttals for some of the most common objections that you can will encounter during your call.
Generate leads and close deals, fast!
Sign up now and get the scripts delivered straight into your inbox.
More perks to look forward to next month…
Sample Email Templates:
Introductory email template
Follow up email template
Voicemail/ Answering Machine email template
Not Available email Template
Get your copy:
Fill up the form below and you'll receive an email with the link to the eBook.
We keep any info you share with us private and confidential. For more on how we process and protect your data, please review Callbox's Privacy Policy
About

Callbox, founded in 2004, is ANZ's top provider of outsourced B2B marketing and sales support services. We help businesses reach their sales goals with innovative solutions and exceptional results.
Services
Regions
Contact us

Suite 83, 89-97 Jones Street Ultimo

,

2007

NSW Australia
Award-Winning Lead Gen Agency