When I first started using Twitter, I had a tough time growing my list of followers. Twitter offers huge networking opportunities to those who know how to use it. However, for me, generating leads from Twitter can be very challenging. But that doesn't mean I can't improve my organic reach and get more interaction from my audience.
In order to reach a larger audience, you must have genuine followers and engage with them. The best way to do this is to do it organically. By doing so, you gain potential new followers and customers. Let me show you how I managed to increase my organic reach on Twitter.
#1.
An impressive profile.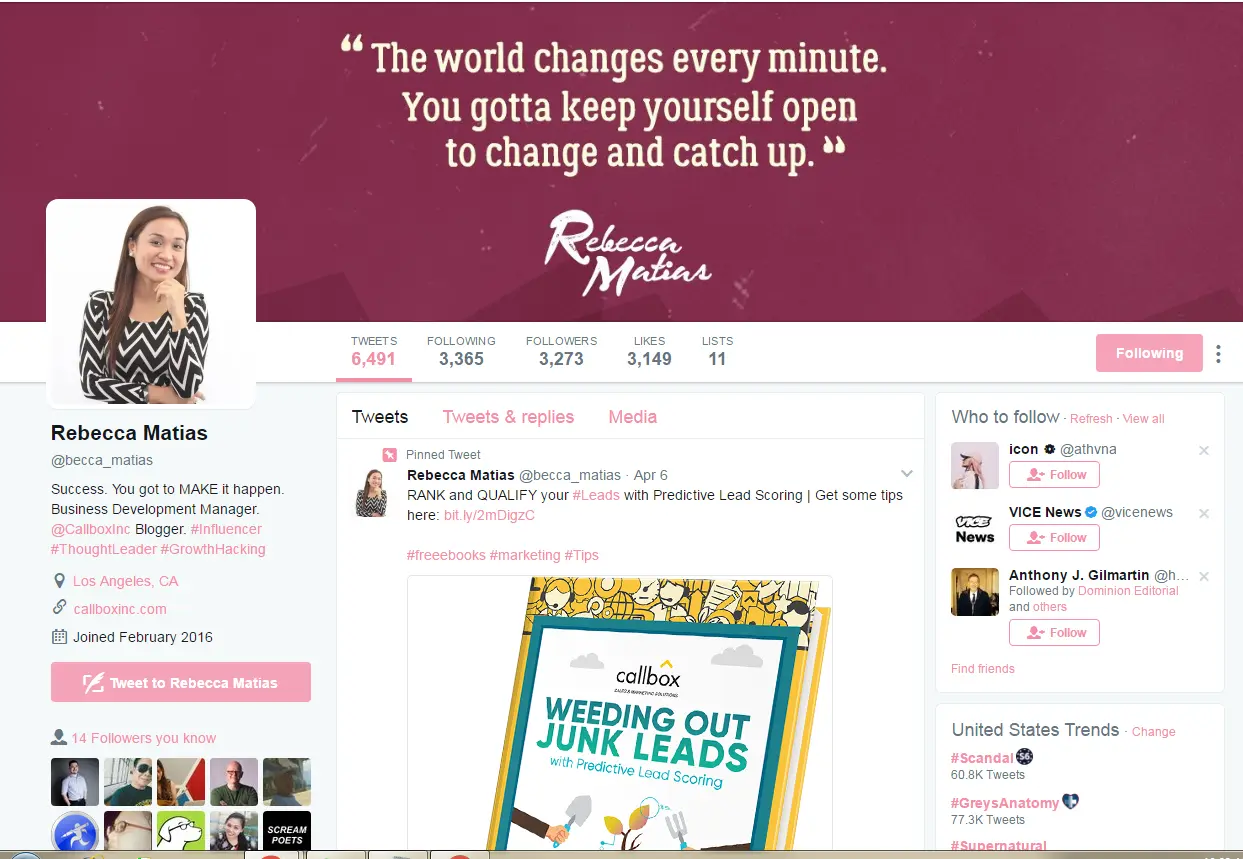 Whenever you follow someone, they will be notified and was given an option to follow you. But before they decide, they will check your profile first. So how do you make your Twitter profile stand out?
Use your real name

. Fake persona makes it difficult for you to link your Twitter profile to your other social media accounts.

Use a real picture.

Don't use animated objects or a picture of your dog. A simple headshot will do.

TIP:

Don't change your profile picture too often.
#2.
Follow industry leaders and influencers.

Twitter is about targeting the right audience. Popular people within your niche may or may not follow you on twitter. However, you still have to follow them. Why?
They have many followers. If they choose to follow you back can help increase your target audience reach.

Their tweets get attention. Retweeting their tweets can increase your chances of getting retweeted and reach more of your target audience.

They share and tweet useful information that you can use and apply for your business.
Related: Twitter Marketing Lessons for IT and Software Marketers
#3.
Share informative and relevant contents.
High-quality content attracts leads. At the same time increases your number of re-tweets. However, whenever you post or share something, make sure to post slides, videos, and infographics as well and not just focus on sharing articles alone. TIP: If you are sharing a curated content, don't forget to tag the author. This will make them share your tweet, therefore, increasing your audience reach.
Related: The Secret Ingredient in Turning Your Social Followers Into Qualified Leads
#4.
Schedule tweets regularly.
It is important to maintain a consistent online presence to reach your audience. I've listed down 3 reasons why it's best to schedule your tweets regularly.
Drive more traffic to your blog and site.

Reach a wider audience (considering some of your audiences are from different time zones).

Attract new followers.
Find out when is the best time to tweet for clicks, retweet and get engagement, here.
Related: Follow Up your Inbound Leads with 5 to 5 Calling Rule (and Generate Over 40% Increase in Sales)
#5.
Use hashtags.
How does hashtag works? If Twitter users talk about a certain topic and use the same hashtag but are not connected with each other, their tweets will appear in the same stream. How to use hashtags effectively?
Keep it short

Make it relevant to your tweet.

Use industry or brand keywords.

Avoid using too many hashtags in one tweet.

Incorporate your hashtag into your other marketing channels
#6.
Measure.
Always keep track of your account to see where you stand. Twitter has a feature where you can keep track of your progress.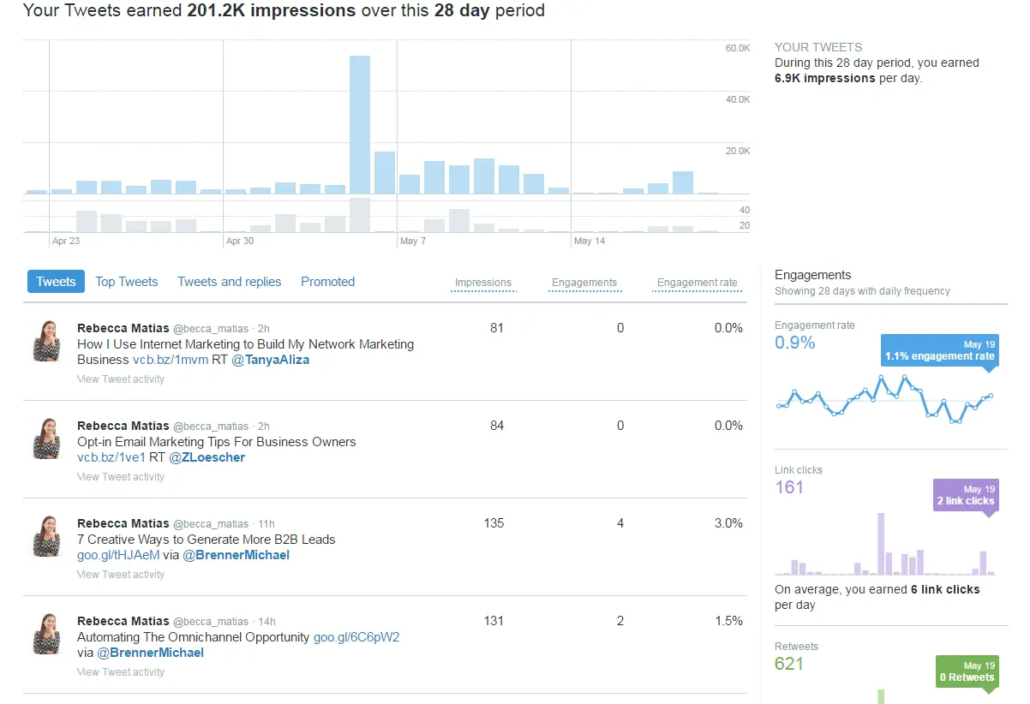 Make sure to manually check and analyze your metrics to know if your strategies are working or not. To maximize the use of Twitter, you must build a network of engaged users. However, there are a lot of spammers and low activity accounts.
According to forbes.com, an average of 42.44% users are fake, while another 30.12% are inactive. Which means there are only 27.44% of users are active.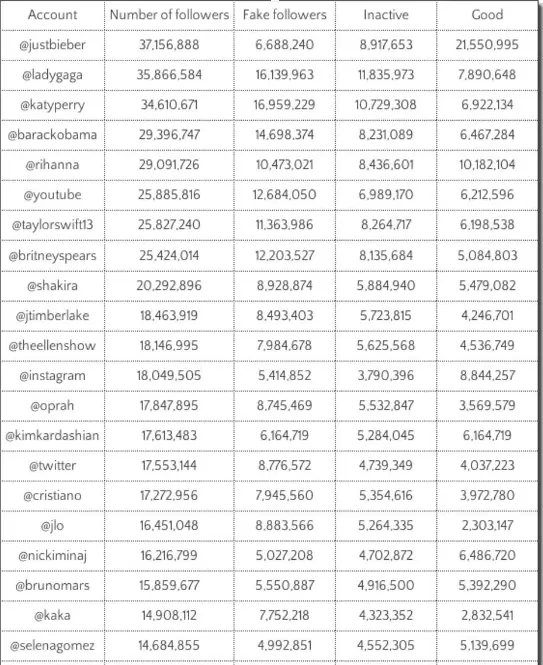 Let's face it. We only want many followers in order to reach our audience. Here's why you shouldn't follow these not genuine users.
You are blocking the space of genuine users who might want to do business with you.

They will not re-tweet your posts

They don't have any value on your feed

They will not help generate leads for your business
Follow these tips by tweaking your strategy and start seeing an increase in your organic reach as much as it did to our business.