If your LinkedIn Company Page is more than just a brochure and you use it to actually grow your network, as you should, then this latest update from LinkedIn should bring a smile to your face, or even elicit a little dance, for those among us who are reeeally into social analytics.
These new Company Page analytics are a vast improvement over LinkedIn's previous "Page Insights" and "Follower Insights". According to LinkedIn, the new analytics will help you:
– Identify the updates that drive the greatest engagement
– Filter engagement trends by type and time period
– Get more detailed demographic data about your followers
– See the growth of your follower base and benchmark it against similar brands
The Next Web shows a few screenshots to give brand and social media managers an idea of what the tool delivers: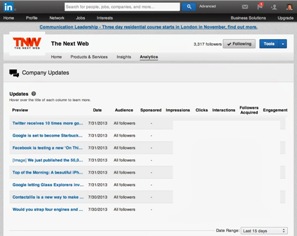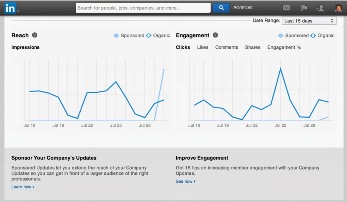 "A huge amount of information is given to detail the engagement for each post, including the total number of impressions, clicks and interactions…Nestled underneath is a a graphical overview of the performance of each update over time, split into impressions on the left and engagement on the right. Each line graph is split between organic clicks and those achieved by Sponsored Updates – a subtle nudge towards LinkedIn's premium features. It's also worth noting that the filters on the right can be used to look at clicks, likes, comments and shares specifically too."
You can read the complete Next Web article here.