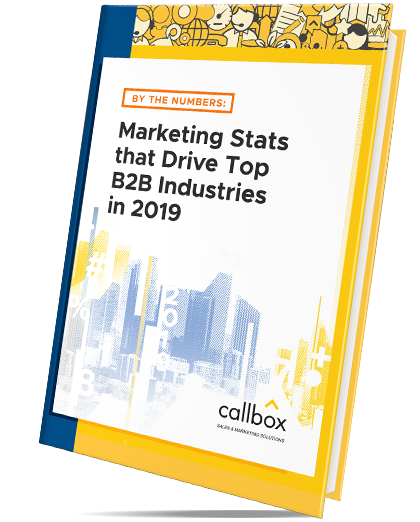 Download our free ebook:
By the Numbers: Marketing Stats that Drive Top B2B Industries
It's easy to see that the whole marketing world is changing at warp speed. What's not so obvious is how exactly these rapid changes impact different marketers. This eBook takes an in-depth look at developments in nine key B2B industries and considers how these trends affect marketing strategy and results.
Packed with the latest data and statistics from various leading industry reports, the eBook serves as a handy resource for B2B marketers that specialize in:
Cyber Security Software
B2B FinTech
IT Managed Storage
Cloud Solutions
Advertising / Marketing Agency
Healthcare
Management Consulting
Manufacturing and Distribution
Telecom
Get your copy:
Fill up the form below and you'll receive an email with the link to the eBook.
We keep any info you share with us private and confidential. For more on how we process and protect your data, please review Callbox's Privacy Policy
About Us
Founded in 2004, Callbox is the largest provider of outsourced B2B marketing and sales support services for businesses and organizations worldwide. Using an account-based marketing approach in reaching a global database of contacts from over 35 million businesses, Callbox enables companies to establish and expand markets by connecting with prospects through six lead generation avenues: voice, email, social, chat, website and webinars.

To increase sales productivity, Callbox provides support to its clients by giving their sales teams access to a full stack of sales and marketing tools that drive up lead conversion. Equipped with decades of marketing expertise and powered by intuitive sales technology, Callbox helps companies grow their business exponentially.