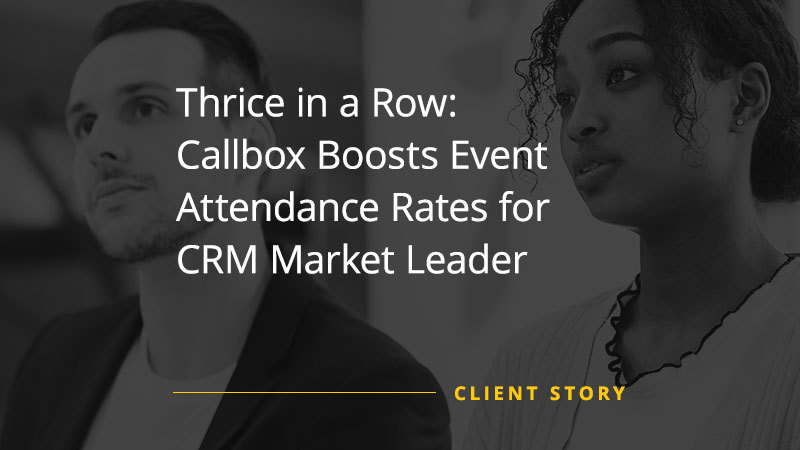 Thrice in a Row: Callbox Boosts Event Attendance Rates for CRM Market Leader
Requests for Information
656
Industry
Computer Programming, Data Processing, and Other Computer Related Services
Campaign Type
Lead Generation, Appointment Setting
Target Location
Singapore and Hong Kong
Target Industries
High Tech, Retail Trade, Finance (FSI), Professional Services, Manufacturing, Healthcare and Life Sciences
Target Contacts
Marketing Manager, Sales Manager, Operations Manager, Managing Director, Owner, CEO, COO, IT Manager, IT Director
The Client
The Client is the Asia-Pacific unit of a USA-based cloud computing company that provides CRM solutions to business and enterprise customers. Its main product line is its suite of on-demand, cloud-based CRM platform available to users on a subscription basis. The Client also offers a number of other cloud-enabled tools for customer service and support as well as for sales team collaboration.
The Challenge
With its reputation as a key mover in the CRM software space, the Client regularly organizes a number of annual conferences and events aimed at customers, vendors, developers, IT professionals, and industry thought leaders throughout various locations around the world. These are typically high-profile events that generate attendance figures that average in the thousands, as well as receive considerable media coverage particularly from the tech press.
While many of the Client's conferences fulfill both branding and PR objectives, there is also a more tangible marketing (and overall business) goal that underlies most of the company's events: to attract more people into its far-reaching ecosystem.