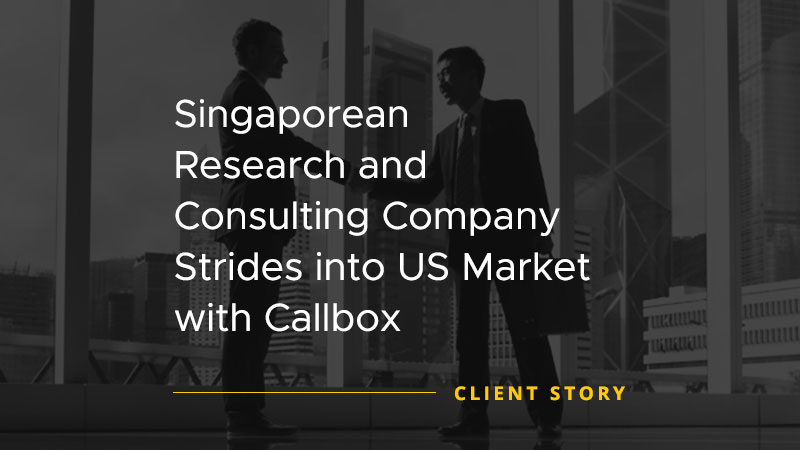 Singaporean Research and Consulting Company Strides into US Market with Callbox
Industry
Research & Consulting
Campaign Type
Lead Generation, Appointment Setting
Target Industries
Automotive, Electronics, Manufacturing
Target Contacts
Executives, Managers, Research Development Directors
The Client
The Client is a leading provider of research-based, go-to-market intelligence and business consulting services supporting expansion into emerging markets across Asia-Pacific, Europe, Latin America, and the Middle East. It has worked with over 50 Global Fortune 1000 companies in solving market growth and entry problems, and has supported export promotion, Foreign Direct Investment attraction, and policy formulation programs of various government agencies in 15 countries.
Its high profile clients include Honda, Philips, Kohler, Yamaha Motors, Tupperware, Schneider Electric, and the Malaysian Rubber Export Promotion Council.
The Challenge
The Client, based in Singapore, wanted to expand its operations into the US to capture contracts with larger companies. However, it lacked resources to penetrate the vast American market. Its primary source of new businesses was word of mouth and referrals from existing clients.
The Client wanted direct communication opportunities with prospects of larger prospects and decided to partner with Callbox to design an outbound telemarketing campaign.