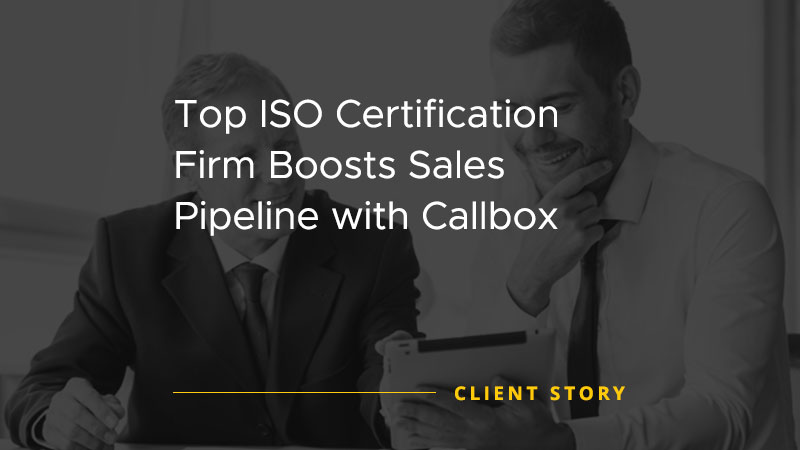 Top ISO Certification Firm Boosts Sales Pipeline with Callbox
Decision-Makers Reached
520
Request for Information
187
Qualified Appointments
71
Industry
Commercial Services
Headquarters
United Kingdom
Campaign Type
Lead Generation
Target Location
Indonesia, Malaysia
Target Industries
Agriculture, Chemicals, Construction, Engineering, Financial Services, Food, Furniture, Logistics, Manufacturing, Mining, Oil & Gas, Public Administration / Government, Publishing & Printing, Retail/Wholesale Trade, Services, Transportation, Utilities
Target Contacts
Small to Medium-Sized Enterprises
The Client
The Client provides a full suite of independent assessment services that cover certification, validation, verification and training. It helps its customers align management systems and business processes for compliance with international and industry-specific standards and schemes. The Client presently offers its assessment services in over 120 countries, with recognition from more than 50 accreditation bodies.
The Challenge
The Client is looking to capture a huge portion of the growing demand for ISO certification among companies operating in Southeast Asia. In particular, the Client identifies a strong potential for its certification and training programs geared toward small to medium-sized enterprises across various industries in the Indonesian and Malaysian markets.
With a broad ISO certification portfolio and a worldwide roster of customers under its fold, the Client has significant strategic advantage over its competitors in the region. The Client has extensive experience assessing quality management systems that include a wide range of compliance coverage, such as ISO 9001, ISO 14001, ISO 27001, and other related standards for commercial and industrial organizations.
To help reach its revenue expansion goals, the Client developed a marketing strategy that involved direct outreach to relevant prospects from companies in its target verticals. The client also determined that it needed the help of a third-party marketing agency to carry out this segment of the plan. Accordingly, the Client decided to partner with Callbox mainly because of the latter's track record at managing B2B marketing campaigns that target organizations based in Indonesia and Malaysia.